August 6, 2020 Field Day – Thank you!
We can't even say how thrilled we are that so many of you came out on the 6th! The overwhelming show of support may have made a couple of us get a little misty-eyed (hmmm, Paul and Nikki – looking at you!) Some folks came out to meet us or say hello to old friends. Some came to tour the tall, leafy hemp plots. We were absolutely blessed in our growing season this year. The weather cooperated and the Cereseed hemp seeds popped up just like God and Hemp Genetics International intended! If you had a bite to eat, give a shout out to Max's for the brisket and B&D Market for the buns and cookies. If you sat down to eat, well, the American Legion loaned us those tables and chairs – thanks, Ron! Carol, Sheryl, Judy, and Wendy have our eternal gratitude for running the food lines with such efficiency; even with big plastic gloves on, they were smiling behind those masks! Special thanks to Tessa for capturing such amazing photos of the day. And we can't forget Nancy for making sure we had PROd logo shirts and bags on time!
Our featured guests were Paul Kubista, CEO of Cereseed; Margaret Wiatrowski, Industrial Hemp Program Coordinator, MDA; Harold Stanislawski, AURI; Grant Herfindahl, Staff Agricultural Assistant with Congressman Collin C. Peterson; and John Lupien, Chief Innovations Officer, Hemp Ventures. Other invited attendees included MN House Representative Tim Miller and Senator Andrew Lange.
There are so many people to thank, we couldn't possibly list them all, so please know that our hearts are full with the levels of support we've received from Olivia, Renville County, and Minnesota at large. Dick Hagen asked an interesting question when he stopped in today. He asked, while nodding as if he already knew the answer, "You all have fun at work every day, don't you?" Yes, Mr. Hagen, yes, we do!"
See you around the hemp field!
Megan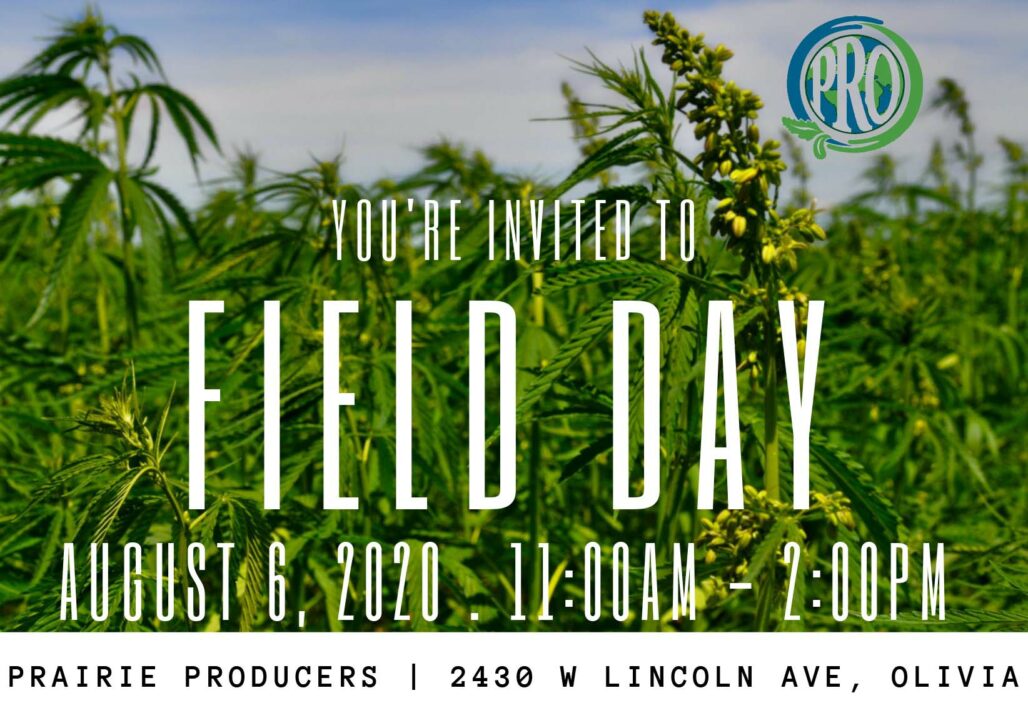 Special thanks to Paul and Amy Kubista of Cereseed for the drone aerial photos and video! Amazing work!